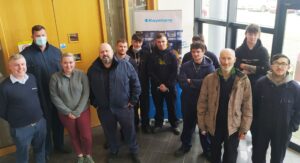 The Keystone Group was delighted to welcome students from local schools and colleges to its headquarters in Cookstown. The students from South West Regional College enjoyed a tour of the manufacturing facilities and got an insight into the range of exciting career opportunities at the Keystone Group particularly within their successful apprenticeship programmes.
The Keystone Group is the UK's largest steel lintel manufacturer and Europe's fastest growing roof window manufacturer. The Keystone Group consists of Keystone Lintels, IG Lintels, Keylite Roof Windows, IG Masonry Support, Keyfix, Smartroof, IG Elements and Stockgap and employees over 1,000 people with sites in the UK, Ireland and Poland.
The students from South West College Welding Academy Cookstown are taking part in an intensive 6 week welding course to provide them with the skills they need to progress their careers. The Keystone Apprenticeship programme trains and supports students and helps them achieve all their welding certifications whilst working on site. The programme welcomes everyone no matter what age or experience level – as long as they have a willingness to learn. The apprenticeship scheme allows students to earn while they learn, gaining real life experience and mentoring from experts in their field, while working towards a qualification at the end of the programme.
Richard Ogle, Operations Manager at Keystone Lintels commented "We have enjoyed a successful partnership between Keystone Lintels and South West College in recent years. We are proud to support local students by providing them with real life experience in a manufacturing environment alongside studying for their qualifications with South West College. Our apprenticeship scheme is a great way to earn while you learn and many students who complete the programme go on to become full time employees at Keystone Lintels."

The Keystone Group also welcomed a group of students from Skills academy South West College Dungannon who are currently studying engineering through South West College. They received an insight into the technical expertise of the Keystone Lintels engineering team and learned about the opportunities available within the Keystone Engineering Apprenticeship programme. This provides an alternative option to studying at University with apprentices developing their engineering skills on the job while studying towards their qualifications.
Stephanie Patterson, HR Business Partner at the Keystone Group commented "Our Engineering Apprenticeship Programme is a brilliant opportunity for those who want to develop a career in engineering without the student loan debt associated with studying at University. We support our apprentices to study while they work and they receive close mentoring from our technical team to help them develop the skills they need to advance their career within engineering."
Visit www.keystonegroup.co.uk for more information on the range of apprenticeship opportunities at the Keystone Group.