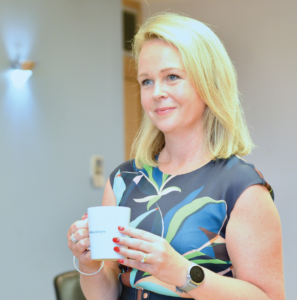 We speak with our very own Hayley Lowry, Marketing Director for Keystone Group about life, work, hobbies and success.
Can you tell us a bit more about yourself?
I was born and grew up in Northern Ireland surrounded by a fun and loving family. I went on to study at Queens University, Belfast and Ulster University where following an Honours Degree in Geography I went on to complete an MBA and since then continued my professional development with a CIM Diploma and Diploma in Digital Marketing.
Family is the centre of my universe and the most important thing in my life – both at home and at work. I feel blessed to have a very supportive husband. Hugh has been so encouraging throughout my career. We have two amazing daughters, Eve and Aimee. They truly are my inspiration and my motivation to achieve and be better. I am also fortunate to be part of the Keystone family. It is a privilege to be part of such a vibrant, progressive company. With a culture of collaboration at the heart of the business, the enthusiasm is infectious and provides an environment where we can all succeed.
I love to run and have been a member of County Antrim Harriers running club for quite a few years now. Running is so good for mental health and well-being. I run 3 times a week, around 18-20 miles and find it an essential part of my routine to keep me mentally and physically on top of my game.
I have worked in marketing for over 20 years now. I am a creative thinker, being a Piscean might have something to do with it. What I love about marketing is the variety, no two projects are ever the same. I thrive on a challenge and have been described as driven and passionate. My career has spanned a variety of different sectors including soft drinks, media, horticulture and construction and I have learned a great deal from the people and teams I have been fortunate to work with along the way.

How did your career path take you into the construction industry?
I was head hunted for Head of Marketing at Brett Martin, another vibrant home-grown Northern Ireland business. Following thirteen years tenure in this business I was attracted to the role of Marketing Director at Keystone. The timing was right for a new challenge. There is never a dull moment in construction, it is fast paced, innovative and an exciting area to work in.

What advice would you give to young women starting their careers?
It is important to have self-belief in your ability. Set your goals, aim high and shoot for the stars – but know you need to put in the groundwork at entry level to earn your stripes. I received a great piece of advice from a valued mentor and tutor when I graduated from university. He told me to target a great company and start at the bottom, work hard and prove my ability. He said it was the only way to get started as a fresh-faced graduate. I took his advice on board and managed to get an entry level position and within 9 months a marketing executive role was advertised internally which I secured mainly on the recommendations of my line manager at the time.
There is a lot circulating in the media around the question, 'can women have it all?' I can assure you that a woman can successfully have a family and a career. You don't have to put your career on hold if you don't want to. However, it's not easy and there are difficult times, but you are strong and can do it.
I've been through the juggling of sick children alongside the delivery of time critical projects. I've had to deliver presentations and host customer visits on zero sleep. I know all too well what this is like. A good support network is essential. I have had great childcare and my husband has always shared our parenting responsibilities equally. This has made a big difference and I feel this has also benefited my daughters by dispelling any myths around traditional role stereotypes.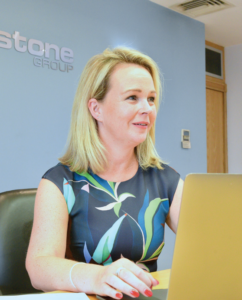 Tell us about your time with The Keystone Group
I have been with Keystone as Marketing Director for just under two years now. I was attracted to the role by the passion the business has for marketing.
It is at the forefront of the business and the appointment of a senior marketing position at board level is testament to the value Keystone places on my function.
It is also an honour to lead and mentor the Keystone marketing team. They are an extremely talented and enthusiastic group of people and I enjoy working alongside them very much. I am excited to see what the future holds for us. We have ambitious plans – digital transformation, marketing automation and sustainability are all critical strategic considerations for our business as well as the wider industry, and the marketing team have a fundamental role in bringing these plans to fruition.

What are your goals for the next five years?
I'm currently building the marketing team and making several new appointments to strengthen an already successful function. I'm looking forward to supporting the ongoing development of the team over the coming years and in the personal development of each individual to achieve their goals and career aspirations.
Keystone Group is a thriving business with exciting growth plans and I'm excited to explore my own career development within this vibrant organisation.
Personally, a marathon is definitely on the cards. This is only a matter of timing and location – oh and a good coach. Anyone have Mo Farah's number?