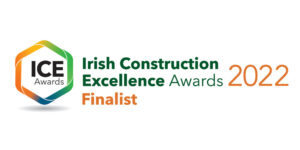 The Keystone Group is delighted to announce that 3 brands within the group have been shortlisted in the Product Innovation Category at this year's Irish Construction Excellence Awards (ICE Awards)
Established by Irish building magazine, the leading construction media brand for Ireland, the Awards provide an opportunity for the industry to highlight best performance across the full range of construction disciplines and project categories.
Innovation is at the heart of everything we do at the Keystone Group, we are continuously investing in research and development to provide our customers with industry leading solutions so we are delighted that not one but three of these solutions have been shortlisted in the Product Innovation Category at the ICE Awards.
Keylite Roof Windows has been announced as a finalist with its Integrated Expanding Thermal Collar, IG Masonry Support has been shortlisted for its B.O.S.S. A1 (Brick On Soffit System) solution and Keyfix has also been recognised for its innovative Non-combustible Cavity Tray (NCCT) System.
Good Luck to the finalists across all the categories, we're looking forward to what is sure to be a great event at the award ceremony in Dublin on 14th May.