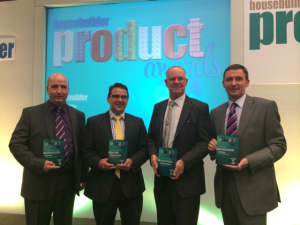 The Keystone Group enjoyed an unprecedented level of success at this year's Housebuilder Product Awards coming home with an amazing four trophies.

Renowned as leaders in their industry, Keystone's ever expanding portfolio of products are designed to offer solutions to house builders enabling them to meet current and future building regulations.
Keystone's Hi-Therm sustainability lintel achieved winner of 'Best Building Fabric Product' for the second consecutive year. Hi-Therm's unique steel and GRP construction offers the single most cost effective solution for house builders to achieve improved fabric energy efficiency and a reduction in carbon emissions.
Achieving highly commended in the same category was Keylite's Futuretherm roof window. The new Futuretherm range features a completely unique Integrated Thermal Collar which is designed to close the gap between the roof and the window frame providing an effective barrier against heat loss and the effects of cold bridging.
Smartroof, the newest addition to the Keystone range enjoyed two highly commended trophies for 'Best Site Product' and 'Best Health and Safety Product'. Smartroof's patented and innovative 'room in roof panel system' simply slots together and spans from gable end to gable end offering speed of construction, energy efficiency and numerous Health and Safety advantages associated with off-site construction and reduced hours working at heights.
Sean Coyle, CEO for the Keystone Group commented "These awards are a testimony to our tireless work on research and innovation to develop new products which meet and exceed the needs of our customers. At Keystone we strive to stay ahead of the market and we are thrilled at the level of recognition our products have achieved from industry experts".