Our first podcast episode is now available to listen to on Spotify, Amazon Music and all supporting podcast platforms.
The Keystone Live Podcast episode 1: How do we deliver Net Zero Housing?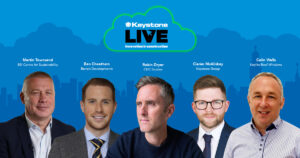 This episode features a stellar line-up of industry speakers including, Martin Townsend (Director at BSI Centre for Sustainability), Ben Cheetham (Senior Technical Innovation Co-Ordinator at Barratt Developments), Robin Dryer (Director and Architect at CDC Studios), Ciaràn McAliskey (National Specification Manager at Keystone Group) and Colin Wells (Head of Technical at Keylite Roof Windows).
What is discussed?
How will we address the performance gap? 
How do we build as designed?
Is the target of 75-80% less carbon emissions from new homes when compared to current regulations achievable?
What are the key areas we should be looking at to help improve the fabric of buildings?
How can manufacturers support the drive for net zero? What role does product innovation play?
The UK has set a target of being net zero by 2050. To help achieve this we have seen recent changes to Part L and also the introduction of the Future Homes Standard.
This will see even more importance put on getting the fabric of new homes right. However, we are facing many challenges delivering to current standards let alone future, more stringent standards. So is this achievable? 
Listen to our podcast episode to find out!
Spotify: https://spotify.link/rC9z9fQkfDb
Amazon Music: https://music.amazon.com/podcasts/ddd5d66b-caea-4b6f-98f6-2df701c747dd/keystone-live
RRS: https://rss.com/podcasts/keystonelive/
Find out more about the Keystone Group's Sustainability Strategy here.