The Keystone Group consists of Keystone Lintels, IG Lintels, Keylite Roof Windows, IG-GRP Components and smartroof. The Keystone Group is the UK and Ireland's largest Steel Lintel manufacturer and Europe's fastest growing Roof Window manufacturer.
The short history of The Keystone Group has been one of relentless expansion and continuous innovation whilst redefining the meaning of service in the construction industry. Production facilities in Birmingham, Cwmbran, Cookstown and Poland provide an efficient, flexible and ergonomic working environment, which is part of the culture of quality and service at Keystone.
The Keystone Group has grown to their present position in the marketplace by establishing a reputation for reliable supply of quality products, with a strong focus on customer service. Keystone Group's steel lintel brands supply the construction industry with an extensive range of both standard and custom made steel lintels and brickwork support systems. Similarly, Keylite Roof Windows manufacture and supply high quality roof windows, flashings and accessories to the industry.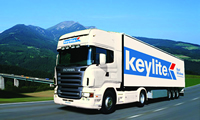 At The Keystone Group, we push back the boundaries of creative lintel design to encourage the construction of attractive innovative buildings in our towns and cities. We provide an individual design consultation service to all our customers.
Securing customer loyalty through service is a very important factor for The Keystone Group. Excellent service and short lead times on "specials" has generated a new level of demand among architects and builders for custom-made and bespoke lintel solutions.
Keystone Core Values
Keystone is committed to core values that are the cornerstone of our corporate philosophy.
Quality of Service

Committed to providing an exceptional service experience that our customers deserve.

Quality of Product

Strive to exceed customer expectations for product quality, innovation and creative design.

Integrity

Honesty, trust, integrity and respect is at the heart of Keystone's culture.

Value for All

Actively engage with our customers, employees and communities to create value for all.