Keystone Group has been announced as the main sponsors of SkillBuild 2023, the largest and longest-running construction skills competition in the UK.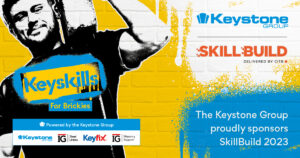 The contest has support from four companies within the Keystone Group: Keystone Lintels, IG Lintels, IG Masonry Support & Keyfix. Each brand will not only be lending their name to the competition, they will provide their industry-leading products to ensure entrants are well equipped to showcase their skills.
Owen Coyle, Divisional CEO, Keystone Group said: "We are delighted to be sponsoring this year's SkillBuild event. It's a fantastic contest featuring talented apprentices and trainees of all ages. The construction industry is in real need of new, skilled recruits. SkillBuild provides an excellent platform to showcase new construction talent, as well as act as a catalyst to inspire others to take up tools and join the industry."
Organised by the Construction Industry Training Board (CITB), SkillBuild pits entrants against each other in a contest involving 13 regional qualifying heats. The one-day events will test competitors on their technical abilities, time management, problem-solving and skills working under pressure. Winners from each qualifier will be invited to take part in the SkillBuild National Finals, taking place in November 2023.
Ten trade categories will be contested in SkillBuild: bricklaying, carpentry, joinery, painting and decorating, plastering, plastering and drywall systems, roof slating and tiling, stonemasonry, wall and floor tiling and furniture and cabinet making. Level 1 competitions are also available in wall and floor tiling and bricklaying.
A recent CITB  'Construction Skills Network' (CSN) report states that nearly 225,000 additional workers will be required to meet UK construction demand by 2027. Despite the current economic challenges, the report states that demand for new recruits in the building industry will remain high.
The Keystone Group's commitment to addressing the building industry skills shortfall includes the launch of 'Keyskills', a brand-new education initiative providing support to skill-up a new generation of bricklayers in UK and Ireland. The initiative, also involving Keystone Group's IG Masonry Support, Keyfix, Keystone Lintels, and IG Lintels, showcases a wide range of construction methods through free training support and materials. It's a generous offering that is designed to focus on relieving financial pressures on education establishments to allow extra funding for the development and recruitment of bricklaying training courses.
Owen Coyle continued: "We see it as our duty to help inspire young people and show them that traditional trades offer a career that is fulfilling and rewarding. It is vital that we continually bring generation after generation into the fold for construction; it brings fresh new ideas and adds energy to our industry. The flipside, an aging workforce that will never be able to keep up with demand. That is why we whole heartedly believe in Keyskills. Every 'brickie' counts!"
To take advantage of the new Keyskills programme, visit: www.keystonegroup.co.uk/keyskills to find out more.