Issue four of Keystone Group's inspiring architect magazine, Innovating Times, is now available online.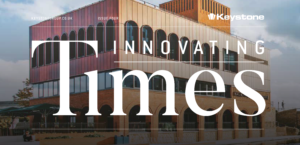 The Keystone Group is the UK's largest steel lintel manufacturer and Europe's fastest-growing roof window manufacturer. Comprising 13 market-leading brands, the company has grown to its present position in the marketplace by establishing a reputation for the reliable supply of quality specialist products and its continuous focus on innovation.
The architect-aimed magazine Innovating Times, first published in 2017, features interviews, blogs, insights, and case study examples of Keystone Group's brand innovations, and fulfils its usual remit to inform, educate and entertain.
Sean Og Coyle, Commercial Director at Keystone Group, said: "We're delighted to publish our latest issue of Innovating Times. From interviews with architects to explorations of how our brand's products are meeting the demands of today's architecture, the magazine features some fantastic content we hope you will enjoy reading."