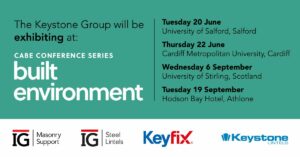 The Chartered Association of Building Engineers (CABE) is redefining its conference season, and is introducing six new events as part of its new Built Environment Series. The CABE event programme consists of four major regional events across the UK, taking place in England, Ireland, Scotland and Wales.
Each event will showcase the expertise of both regional and national professionals, providing attendees with a valuable experience. Distinguished guest speakers from various disciplines will share their insights, engaging in topical discussions and interactive Q&A sessions. Moreover, participants will have the chance to network with industry professionals and suppliers during the trade exhibition, facilitating connections and collaboration.
The first event in the series will be Built Environment England, which will take place at the University of Salford on Tuesday 20th June, followed by Built Environment Wales at Cardiff Metropolitan University on 22nd June.
The Built Environment England Technical Conference will focus on themes of performance, compliance and safety. The discussion will look at key areas of the built environment sector, including the challenges presented by the journey to net zero carbon and the new duty holder regime. The event not only offers the opportunity to learn from a variety of speakers, attendees have the opportunity to explore the trade exhibition and network with other professionals. The event will conclude with the opportunity to tour the Energy House 2.0 facility developed by the University of Manchester. Energy House 2.0 is currently the largest test and research facility focusing on fuel-efficient technologies in Europe.
In support of the Group's mission to create smart construction solutions beyond equal, Keystone's companies will be exhibiting at the conferences. The Keystone Group comprises eight brands located across four regions, boasting a workforce of over 1,000 dedicated employees. Their collective commitment to innovation and providing outstanding customer service unites them. By consistently challenging the status quo and embracing innovations, the Keystone Group has emerged as the largest manufacturer of steel lintels in the UK and Ireland, as well as the fastest-growing manufacturer of roof windows in Europe.
Sean Og Coyle, Commercial Director of Keystone Group commented: "I am excited to announce that the Keystone Group companies, Keyfix, Keystone Lintels, IG Lintels, and IG Masonry Support, will be exhibiting at the CABE Built Environment conferences for 2023. These regional events provide a valuable experience, featuring guest speakers, topical discussions, and networking opportunities. We are looking forward to connecting with our peers, sharing knowledge and contributing to the advancement of the industry."